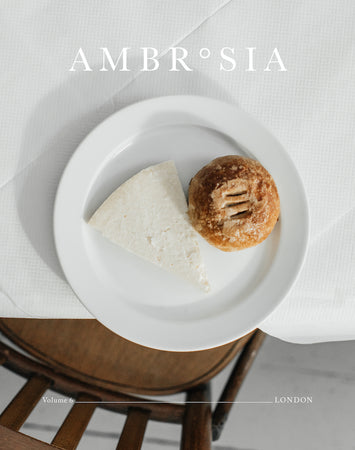 Sign up to our newsletter and we'll keep you posted with news about Ambrosia!
Follow us
This option is currently sold out.
Introducing Ambrosia, Volume 6: London.
Volume 6 takes us to London, the capital of the United Kingdom, best known as the seat of the former British Empire, replete with footballers, bleak weather, double-decker buses, red telephone booths, and a truly global food culture. This issue unearths the history of the region's eating culture, from the quintessential Sunday roast to front-of-house hospitality when you live in the city of the royal family.
Ambrosia, Volume 6: London is a must-have for food and travel lovers alike. Featuring stories from James Lowe, Tomos Parry, Heston Blumenthal, Lee Tiernan, among many other chefs, vendors, maitre d's, and more, this issue will transport readers to London—Europe's most touristed city and home to one of the world's most deeply entrenched fine-dining scenes in the country on one end, as well as a ballooning community of immigrant-owned restaurants on the other—where the diversity of its residents and the lingering question over British identity from Brexit makes it one of the world's most interesting and dynamic places to access and eat right now.

DETAILS 7.5" x 9.5", 160 pages, offset UV-printed and perfect bound, full color on uncoated paper. Carbon neutral printing. No ads.
SHIPPING & HANDLING US orders are shipped via USPS Media Mail in our custom packaging. International orders are shipped via International Priority Airmail. Shipping for a single magazine is $6 (US), $15 (Canada), and $17.50 (International). For more information, view our FAQs.